STAFF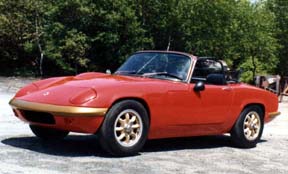 Don's 1969 Lotus Élan S4
Don Butler: Lotus Mechanic and Electrical Engineer
It all started on a quiet day back in the late '50's. I walked outside and stood standing in the middle of the street gaping at a TR3. I couldn't have been more astounded if an UFO had landed. Living in a small town with Fords, Chevys, and Dodges I assumed that that's all there was to cars. Unfortunately, the high school kids across the street didn't pay any attention to us little kids and their friend with the TR didn't return, but the seeds of a lifelong affliction with sports cars were planted.

I started satisfying the disease by working on friends sports cars: Healeys, Triumphs, MGB's, and hot rodding a 1963 Chevy Impala. The Impala was a stock appearing station wagon with a 327 Cu. In. engine assembled by me with many Corvette and Z28 parts and a transmission from a 396 Chevelle that I reprogrammed for firmer shifts. It was strong enough to destroy three differentials and one drive shaft (the center universal joint snapped in half!). I nearly cried when the 4.56:1 Posi broke. It wasn't all that exotic but it transported me and my stuff back and forth to college and my internship with NASA at Wallops Flight Center with a bit of hooligan fun inbetween.

Eventually, with college behind me and working in the electronics industry, I was able to buy a proper sports car: a three year old 1974 Fiat 124 Sport Spider. Very red and the best convertible top ever made. A few engine mods, some fat tyres, and I was out on the back roads improving my cornering technique to the point that guys with V8 Mustangs couldn't keep-up with me on the twistys.

I soon out grew the Fiat and started looking for my next sports car. I read a magazine article about a Lotus Élan and was hooked. Altogether it took nearly two years of reading Autoweek ads to find one for sale near where I was living. After looking at it for five minutes and driving it about five miles in the rain, I gave the gentleman a deposit and took delivery the next week. Very brave considering it was the first time I've ever seen an Élan "in person" and the second time I've ever seen a Lotus (an Europa). Fortunately it continued to run without much trouble until I was able to start the rebuilding/restoring process. That was 1980 and now after a body off in 1995 nearly everything has been repaired or replaced. Preferably repaired, I prefer the look of well maintained old parts to new. An engine build in 2004-5 that included reprofiled camshafts (DB #112), an FFI 1600cc crankshaft, and special Dave Bean pistons for a total of 1700 cc's. It was fast before so it's "just right" now.

Since starting this as a hobby in 1972 and as a job in 2007 I've "read and did" on an assortment of sports cars and racecars and acquired the knowledge, skills, and tools necessary to perform any maintenance on most any British sports car. It's just a matter of reading the service manual, applying general principles, planning the steps, and carefully discovering the "tricks" - not much different than when I commissioned (sometimes designed) industrial machines as an Electrical Engineer specializing in industrial control systems.

Donald Lee Butler
E-mail Don
Brandon Butler: From Apprentice to Partner
After studying part time at a community college while working full time at a vape shop then in the IT department of a large bank, Brandon decided to become a Lotus mechanic. The pay is better and the commute shorter. He's learning quickly and is adjusting to the occasional frustrations that are part of the job. Brandon and others like him are the future of Classic cars.




Don and "Apprentice" Brandon repairing the wiring in an Essex Turbo Esprit - 2007.


HOME Staff PROJECTS SERVICES & RATES LINKS CONTACT
© 2007-2021 Union Jack Exotics.